Animal Talk
If animals could talk, what would they say? World renowned Australian animal communicator, healer, teacher and author Trisha McCagh shares her extraordinary proven powers to listen and talk to animals. Trisha offers her remarkable gift to decipher the silent language of animals. What makes them happy, sad, sick, confused and angry? Why do they behave the way they do and how can we build better relationships with them?

Trisha conducts Private Consultations. She will be launching the Animal Talk Practitioners program for those wishing to become Certified Animal Communicators.

Browse our website for more information on animal communication, private consultations, animal healing, animal talk workshops, online courses, our online shop, and more.

Visit us at the EveryWoman Expo!
Make an enquiry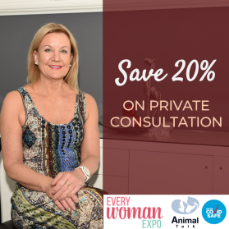 Special

- SAVE 20%

Save 20% When You Book A Private Consultation With Trisha
Conditions
Discount only available to expo attendees
More information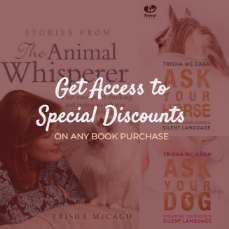 Special

- SPECIAL DISCOUNTS

Get Access To Special Discounts on Future Events
Conditions
Only available to sign ups and book purchase during expo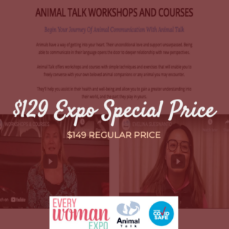 Special

- SAVE $20

Save $20 When You Sign Up For Our Live Workshop (Regular Price at $149)
Conditions
Only available during expo