Celestial Pleasure
Celestial Pleasure is about finding pleasure in all areas of your life, not just the bedroom. It's about bringing the sacredness back into your body and learning what wisdom she is whispering to you.

Celestial Pleasure stocks a range of sexual wellness tools to help you on your journey including high quality Crystal Pleasure Wands, Yoni Eggs, Menstrual Cups and more.

Our womb space is our creative space, our pleasure is our rite, and our energy is our responsibility. Learn how to bring awareness and flow into your life with these luxe crystals designed to assist manifesting your desires.

Make an enquiry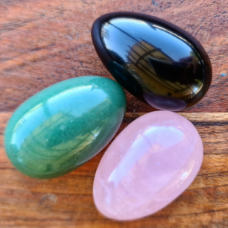 Special

- Yoni Egg Set of 3!

Yoni Egg Set of 3, choose between Rose Quartz, Aventurine and Obsidian!