Green Vision Planters
My name is Roxy and I started up Green Vision Planters in early 2019.

What is my "green vision" exactly? With a passion (addiction) for plants, I specialize in indoor foliage. I strive to help others green-ify their home and work places and enhance their confidence in caring for their plant babies.

I also offer "green guarantee" workplace plant rentals. Offering flexible contracts, we install and regularly service the plants including dusting, watering, fertilising, pest management and even replace any plant not in its optimum condition - so all you have to do is enjoy!

I give back to Mother Earth by donating a portion of every sale and $1/planter per month for any rentals to the Fostering and Assistance for Wildlife Needing Aid (FAWNA inc)🦜🦉

Visit me at the EveryWoman Expo!
Make an enquiry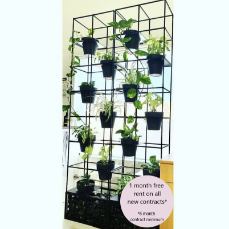 Special

- 1 Month Free!

Receive 1 month free indoor plant rental where Green Vision Planters will install, water, dust, fertilise, pest manage and even replace plants should they not be in optimum condition.
Conditions
Rental contract must be minimum of 6 months
More information