Lips That Wow - SeneGence
LIPS THAT WOW! KissProof, SmudgeProof, WaterProof - Cosmetics that LAST!

The premier product of SeneGence is LipSense Long Lasting Liquid Lip Colour. LipSense is an amazing departure from conventional lipsticks and lip colours found on the market today.
It comes in a wide variety of over 50 shades and textures that can be mixed and matched to create a number of effects.
This unique product is waterproof and does not smear off, rub off or kiss off and can last anywhere from 4 to 18 hours. LipSense is a non-wax, liquid lip colour that stays on the skin and provides a natural, mechanical shield from the elements.

Combining the same anti-aging benefits as our skin care with proprietary long-lasting color technology results in the SenseCosmetics line of creamy colour cosmetics with SenePlex Complex.

Shop our cosmetic products for face, eyes, lips, body, spa, hair, removers, skin care, and anti-aging.
SenseCosmetics are waterproof or water-resistant, and deliver essential nutrients to create healthier skin with use. SenseCosmetics can be blended together to create custom looks.

Visit us at the EveryWoman Expo!
Make an enquiry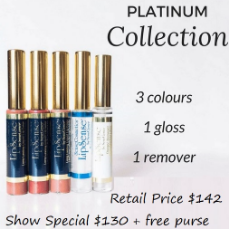 Special

- Platinum Collection

Includes 3 x LipSense Colours of your choice, 1 x Moisturising Gloss and 1 Ooop Remover.
Retail $142 - Show Special $130 - Save $12 + Get a free Make Up Purse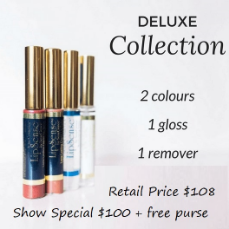 Special

- Delux Collection

Includes 2 x LipSense Colours of your choice, 1 x Moisturising Gloss and 1 Ooop Remover.
Retail $108 - Show Special $100 - Save $12 + Get a free Make Up Purse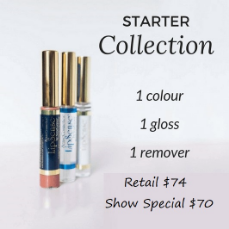 Special

- Starter Collection

Includes 1 x LipSense Colours of your choice, 1 x Moisturising Gloss and 1 Ooop Remover.
Retail $74 - Show Special $70 - Save $4