Healy World
Healy is a wearable that uses Individualised Micro-current Frequency (IMF) programs for the harmonisation of your Bioenergetic Field.

Isn't it a great feeling to feel strong, active and healthy? A healthy body and mind means quality of life, after all.

That's why Healy offers you IMF applications to help you stay fit and harmonize your Bioenergetic Field. It is designed to support you in stressful situations during the day, help you recover more easily, and find peace in the evening.

Healy is helps you increase your vitality to improve the flow of your energy reserves and activate your energy reservoirs.

Healy offers you individual programs that can support you in the following areas:

Local Stim.
Sleep
Gold Cycle
Mental Balance
Job
Skin
Learning
Fitness
Beauty
Meridians
Chakras
Bioenergetic Balance
Protection Programs

Healy's frequency programs can support you after just a 20-minute application, no matter where you are: playing sports, relaxing, at work, home, or on the go.

Visit us at the EveryWoman Expo!
Make an enquiry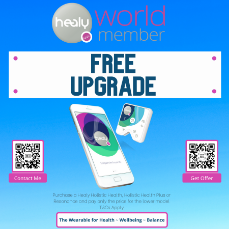 Special

- Healy Bioresonance Device FREE Upgrade

Purchase a Healy Model and pay only the price of the model below
Conditions
Offer available until 30th April 2021
More information