My Humble Earth
My Humble Earth is an online & wholesale supplier of Eco-friendly products in Australia. Our mission is to help families reduce their household waste by providing reusable and sustainable products for their home, so they can cut most single use plastics out of their life for good!

We love to promote sustainable causes for environmental conservation, as well as share resources and local knowledge on facilities like waste drop zones and events. Our blog contains lots of information on health, wellness, recycling, renewable energy and sustainable lifestyle tips.

Browse our product range online such as reusable kitchen and bathroom products, reusable shopping bags, and more. Find out more information about reducing your carbon footprint and overall waste today!

We are thrilled to showcase our latest product to you at the EveryWoman Expo - our period underwear. We have two styles of underwear made from organic cotton and bamboo, so you will love how comfortable and breathable they are. Synthetic fibers are not just bad for the planet, but also bad for your menstrual health, so you can feel safe and secure in our underwear at that time of the month.

Visit us at the EveryWoman Expo!
Make an enquiry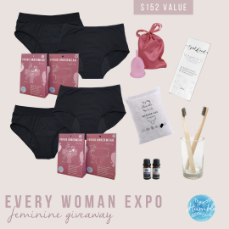 Special

- Ultimate Feminine Giveaway

Win the Ultimate Feminine Giveaway! Prize includes 4 x Period Underwear, 1 x Menstrual Cup, 1 x Underwear Wash Bag, 1 x Vitamin C Facial Serum, 2 x Bamboo Toothbrushes and 2 x Essential Oils
Conditions
Shipping address within Australia only. Entrants must be over the age of 14 to enter.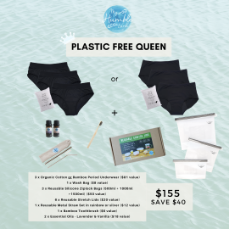 Special

- Plastic Free Queen Showbag Special $155 (Save $40)

3 x Organic Cotton or Bamboo Period Underwear ($81)
1 x Wash Bag ($8)
3 x Reusable Ziplock Bags (500+1000+1500ml) ($50)
6 x Reusable Stretch Lids ($20 value)
1 x Reusable Metal Straw Set in rainbow or silver ($12)
1 x Bamboo Toothbrush ($6)
2 x Essential Oils - Lavender & Vanilla ($18)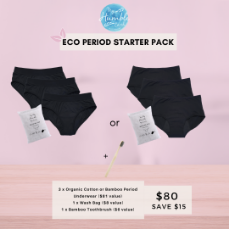 Special

- Eco Period Starter Pack $80 (Save $15)

Whats included:
3 x Organic Cotton or Bamboo Period Underwear ($81 value)
1 x Wash Bag ($8 value)
1 x Bamboo Toothbrush ($6 value)